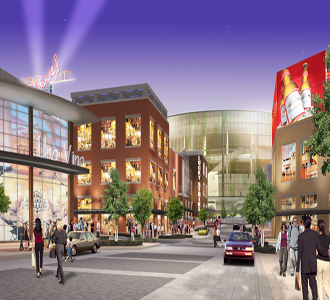 PROJECT NUMBER ONE:

ASHLEY PROMENADE

A Dramatic Reinvention Ashley Promenade will accompany the existing beautiful downtown environment of Ann Arbor..the time is right for a dramatic renovation as a fresh, modern, walk-able and year-round environment complete with sustainable "green" affordable work-force living space, entertainment venues, a variety of world class shopping, produce market, grocery and pharmacy… Ashley Promenade will be anchored by the comfortably modern, accessible Starwood A-Lofts hotel and conference center.. Put the car away…Ann Arbor's new urban residents deserve to have a highly tailored convenient urban shopping experience - a place to find reasonably priced produce, fashion, entertainment, prescriptions and services to accompany Ann Arbors legacy as an extraordinary dining Mecca.

A New Design This re-imagined shopping destination will offer simple yet dramatic, light-filled spaces, an indoor-outdoor design to take greater advantage of the seasons The result will feel like creative reuse of a reclaimed season by creating a vibrant new entertainment and shopping environment.

This reinvention of the currently underutilized Ashley Street corridor - accomplished through clever architectural changes that re-make the existing mall in exciting new ways - will blur the boundaries between indoor shopping spaces and new, welcoming courtyards, open-air dining areas and outdoor gathering spaces.

Inside, new clerestory windows, running the length of the center, will create an appealing, soaring interior atrium. The oversized glass walls will simply slide away during the balmy summer months, opening to new outdoor spaces, shaded by awnings and canopies, and nestled in elegantly landscaped courtyard settings of cafes and smartly designed, unique retail shops.

Across the property, new outward facing retail spaces and an indoor/outdoor versatile courtyard space will flow to a new, landscaped courtyard near the Theatre area. At the center's west side, more shops and dining will turn to the outside, with bistro spaces making use of the property's new landscaping and ample year round southern exposure sunshine

Introducing the Promenade With hotel conference center patrons spilling out to the existing Main Street Area restaurants and shops..Ashley Promenade's design will organically incorporate several partially glass-covered and heated walkway areas designed to extend seasonal usage and better accommodate Ann Arbor's active, outdoor lifestyle.. The new landscaped Promenade with large open spaces, will incorporate new walking and biking paths, outdoor chess tables, and seasonal skating rink, the Promenade pathways will connect key elements by converting all existing impervious surface parking lots on the site to carefully planned "serenity" green spaces The vision is to thoughtfully add a wealth of outdoor and indoor spaces to retail, dining and entertainment. "This will be a place you will want to be.."

Key Facts & Features

Architecture and Design A series of clever architecture changes will deliver a refreshingly simplified and airy Interior spaces. Exterior spaces On the east and west sides of the property will be a new, landscaped Promenade, a multi-modal pedestrian path that will link Main Street with landscaped walkways leading to the Hotel Conference Center. The Promenade will serve as the pedestrian boulevard center link component connecting existing Main Street retail and restaurants with the new A-Lofts hotel conference center, workforce housing, additional retail, entertainment, and parks along Ashley and First Streets to the west.. Location: Situated in the center of Ann Arbors Business and Upscale Restaurant District 25 Miles from West Bloomfield, Detroit

Size Project plans call for approximately 525,000 square feet of Mixed Use, Retail (110,000 S/F) Workforce Housing (110,000 S/F), Starwood A-Lofts Hotel & Conference Center (380,000 S/F)

Developer General Equity Development Group

Architect & Design Ron Jona & Associates

Leasing McKinley Properties

Schedule Local approvals for the project are expected 4Q 2009 and construction to begin in 1Q 2010. Plans currently call for completion in fall 2010.

Hospitality: Starwood: aLofts Brand 360,000 s/f will operate 40,000 s/f Conference Center

Retailers: Restoration Hardware, Pottery Barn, Century Theaters, Food Emporium Grocery and Pharmacy, Joe's Produce, The Fish Monger Fish Market will complete the merchandise mix. Indoor Outdoor food court will spill into a landscaped courtyard and new sit-down restaurants and café's will create exciting gathering places with social patios bricked courtyards and serenity gardens.




GENERAL EQUITY PROJECT NUMBER TWO:

PROJECT NAME
MEADOWBROOK MEDICAL
PROJECT LOCATION
2670-2690 ANN ARBOR SALINE ROAD
PROJECT SIZE
22,000 SQUARE FEET OF CLASS "A" MEDICAL OFFICE SPACE
PROJECT TYPE
STATE OF THE ART OFFICE SPACE
PROJECT DESIGN
CLEAN MODERN GLASS
PROJECT FEATURES
SUSTAINABLE LEED "GOLD" CERTIFICATION
NEWLY CREATED WATER FEATURE
WALKABLE PARK SETTING
SELF CONTAINED ON-SITE PARKING
EXCEPTIONAL LOCATION
1000 FT FROM I-94 ON RAMP
PREMIUM VISIBILITY
NAMING RIGHTS AVAILABLE
ACROSS FROM NEW WHOLE FOODS

SHARED CORRIDOR RETAILERS:
TARGET
WHOLE FOODS
POTBELLY
REI
PANERA BREAD
OFFICE DEPOT
MEIJERS
BEST BUY
BUSCHES GROCERY
ULTIRA
BRIARWOOD MALL

DEMOGRAPHICS:
$84,000 AVERAGE INCOME
Age % of Total Population 0-4 6% 5-17 16% 18-34 34% 35-64 36% 65+ 8% Bachelor's Degree: 30% Graduate Degrees: 39% diversity US Census African American 42,335 White 260,733 Two or more races 8,418 Hispanic or Latino 10,985 Asian 27,885 American Indian and Alaska Native 880 Native Hawaiian and other Pacific Islander 164
EFFICIENT LIGHTING
BEAUTY MATTERS
row 2